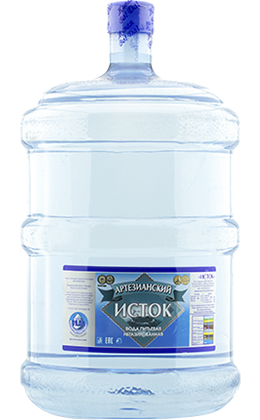 CHEMICAL COMPOSITION
Hydrocarbonates (HCO3-)
88.0
Water 19L
«Artesian istok» 19 л
You can drink water as much as you want, in-spite of your age or lifestyle. The crystal clear water makes it possible to feel the real distinctive taste of your favourite drinks, coffee or tea.
According to experts from retail chains that carry out production inspection, the unique water treatment system developed by the specialists of ZAO Istok has no analogues neither in the Penza region nor far beyond its borders.
The quality of Artesian Istok drinking water is confirmed by Rostest - main certification center of Russia. This is the largest institution of practical Metrology in the Russian Federation, which has been testing the products of ZAO Istok since 2000 and comparing them with their counterparts in Russia.
To date, ZAO Istok is the only food enterprise in the Penza region, which has received the highest rating of a Platinum quality mark 10+ times.
By identifying the best products on the market, whose consumer characteristics exceed the current state Standards, Rostest confirms that Istok does not compromise on quality, but takes advanced standards as the basis of its production.